Happy to be able to play with my grandchildren
Date: 03.08.2019
''I did not have any negative side effects but I could clearly confirm that my psychological condition and sleep got better and I had a better appetite which contributed to my ability to sustain my body weight.''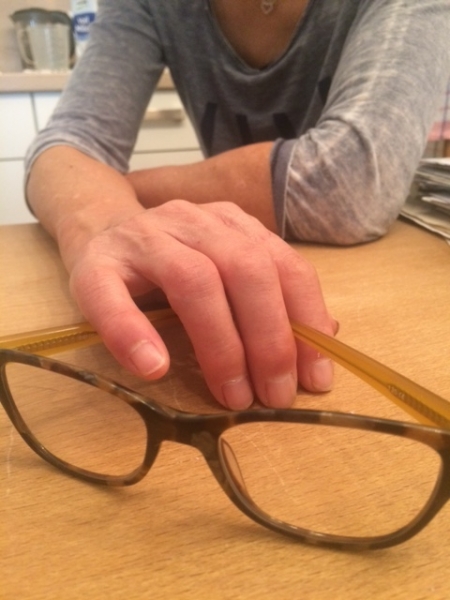 Already in the middle of the nineties my uterus had to be removed, the doctors said there were precancerous pathologies. Regular checks up at the oncological departments followed. After about a year I was diagnosed with breast cancer in my right breast. I began treatment in Graz, where I went through 35 sessions of radiation therapy and one session of chemotherapy, which was stopped immediately due to severe physical and mental (deep depression, nausea, loss of body weight...) side effects. During the treatment I started to use cannabis, because at that time I heard that it could help treat the symptoms of diverse health ailments. I soon discovered that it helped me to regain appetite, psychological and physical relaxation, I slept much better and vomiting was significantly reduced.
For a few years I suffered from different medical issues, like tooth loss, osteoporosis, rheumatism, psychological issues and in August 2010, at a regular check up, another tumor was discovered, this time in the left breast with a 1,6 cm diameter.
Because of many heavy side effects caused by conventional treatment the first time and my general health condition, I was unable to start with the same therapy again. Together with my family we were searching for alternative options. I decided that I would try using cannabis extract with high THC concentration. I got the oil in my family circle and it was made from homegrown cannabis flowers, which were first extracted into raw resin and then extracted with medical grade ethanol and the help of a distiller. I am convinced that it was of crucial importance that I started to take the oil as soon as possible, right after the diagnosis and that I did not need to search for it on the black market, where I would be exposed to more risk factors, also possible contamination with unsuitable solvents, pesticides...
I started the therapy gradually and with caution. I took the oil every day, in the morning and in the evening. I did not have any negative side effects but I could clearly confirm that my psychological condition and sleep got better and I had a better appetite which contributed to my ability to sustain my body weight. In two months I consumed around 30 ml of cannabis oil.
At the next regular check in October 2010 my doctor was shocked when he discovered that the tumor was gone, he also wrote it in my medical records. I revealed to him my treatment with the cannabis extract and unofficially he said to me that I should continue my treatment. I felt a great relief that I could talk about it with an understanding doctor. Unfortunately he could not help me further because of barriers and the lack of knowledge in the official medical system, as I would have hoped and expected as a patient. After many checkups in the following years my doctor said, that he is personally reading and learning more and more from scientific research about the endocannabinoid system. He also expressed his fears due to legal limitations.
I go to my medical checkups regularly and I established a good cooperation with my doctor. The cancer did not return until today. I still take the cannabinoid oil in small doses because it helps me with a wide range of issues I suffer from – pain, arthritis, osteoporosis, insomnia, appetite control. The difference from before is, that I am using an oil with a higher concentration of cannabidiol (CBD) but it also contains THC and other cannabinoids in a higher concentration, than it is allowed in current legislation. With food supplements and tinctures with low cannabinoid content I could not reach the desired positive effects as with the concentrates.
Today I am 64 years old and I mostly enjoy spending my time with family and my grandchildren. At the same time I am worried because this field is still not regulated by the system, the doctors are mostly without proper knowledge of therapeutic value of cannabinoids and cannabis products and the people who suffer from medical health issues are left without advice and access to controlled products from cannabis. In my opinion doctors and scientists should be supported by politics because in this way cannabis would find its way in conventional treatment. It would open the way for patients to access good treatment and many questions around the content, non/contamination, dosing, unwanted effects, interactions... would get answered. Until then I suggest to patients to consult a doctor with whom they can talk and who can be of any help, and also that they are very cautious what kind of products they are using.